Fisher & Paykel Appliance Repair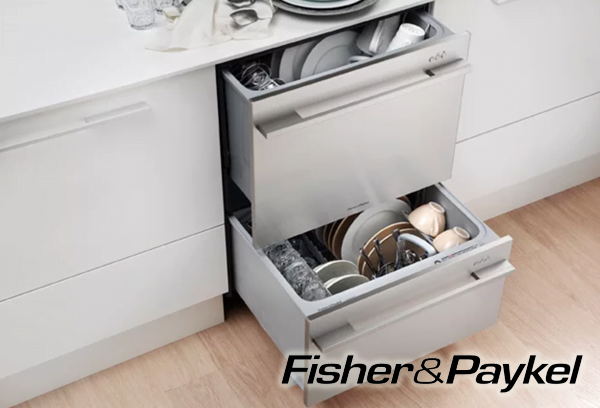 We are high-end appliance repair specialists with over 30 years of experience repairing luxury brands, such as Fisher & Paykel. Our technicians are factory-trained and qualified to handle all levels of Fisher & Paykel brand appliance repair, service, and maintenance. We take pride in being able to expertly diagnose your Fisher & Paykel appliance and get it repaired. Our skilled technicians can order any parts that may be necessary, and professionally install them in no time. Count on Appliance Doctor for high-quality repair service of your high-end appliances.
Based out of Auckland, New Zealand, Fisher & Paykel is a trusted brand of high-end household appliances. They offer a comprehensive suite of luxury appliances including cooking, ventilation, cooling, dishwashing, and laundry that complement the way you live. With this company, you can be sure of high manufacturing quality and durability combined with great design and innovation.  We are experts on all models of Fisher & Paykel; you can rely on our technicians getting your appliance working again.
Count on Appliance Doctor — we are high-end, luxury brand experts.
Luxury Brand Experts
Appliance Doctor Can Fix It!
Why Choose Appliance Doctor?
---
Qualified Experts
Guaranteed Workmanship
Service on your Schedule
Special Offers
Upfront Pricing
I love Appliance Doctor! We are in the animal health care industry and go through a TON of laundry, which means we have also gone through a lot of washers and dryers over the years. Appliance Doctor has come to our rescue on many occasions and I appreciate their honesty when it comes to fixing or discarding an appliance. Most recently they helped me with a warranty issue I was having with an appliance, the warranty work was not even their responsibility but that is just the type of service they strive to provide. I appreciate them more than they know!

Jennifer Weaver


November 14, 2018

Appliance doctor has always come thru for us. Our oven decided not to heat 3 days before we were hosting a major party between Christmas and New Years. After leaving a telephone message, and entering a request for emergency service, we got a call back the next morning with a promise of a service visit between 10 and 2. Not only did the technician show up before noon, but located the needed part in a warehouse, found someone to go get it, and and was back to install it before the end of the day! What great service.

Ann Whitcomb


December 31, 2018

Called in the middle of the day on sunday expecting an answering machine and surprisingly Gail one of the owners answered. Very helpfull over the phone and told me she had the dryer belt i was looking for @ the office but they were closed. She mentioned that she could meet me there and would sell it to me. Any small business owner that is willing to open the door in the day when they are closed for a $20 belt is A ok in my book.

chris scardina


May 20, 2018